Fiesole
Tourist information about the town of Fiesole in Tuscany, Italy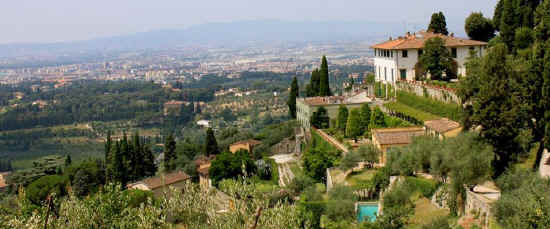 Click here for everything about Fiesole.
Fiesole is a place of great charm that is often overlooked by visitors to the city of Florence in the valley below. Not only is Fiesole of great interest in itself but it provides relief from the summer heat and humidity that sometimes plagues Florence in the middle of summer. It is for this reason, plus its wonderful views out over the valley of the Arno, that Fiesole was chosen as the site for so many Tuscan villas, beginning with Lorenzo di Medici's Villa Fiesole, shown in the picture above.

Fiesole is best reached by the Florence city bus service although those used to very narrow roads can also drive up to Fiesole in their own car.

As far as dining in Fiesole is concerned, we can strongly recommend La Reggia degli Etruschi for the delicious food, splendid views and excellent service. Reservation a must. Trattoria Tullio is another excellent restaurant in Fiesole much favoured by local people.
web site design, hosting and promotion by ammonet
Fiesole © ammonet InfoTech 2014 - 2020. All rights reserved.